Handicare 1000 Perch Seat
The Sleekest Track in our Range
The 1000 is able to provide both comfort and support while having upgrades available with newer features. In addition, the rail is made of aluminum to provide a sleek, stylish track for comfort. The 1000 is also the narrowest straight stairlift track available in the market, and is also usable outdoors.
To provide you with the assurance of safety, we subject our stairlifts to the highest standard of quality and safety by having them all tested and approved by inspectors worldwide for safety.
The 1000 is available with six different color options for upholstery. Our new products also come with a 2 year warranty on parts and a limited lifetime warranty on both the gearbox and the motor.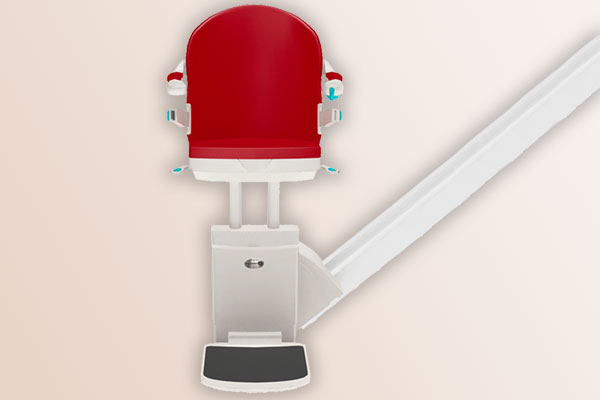 ---
1000 Perch Seat Product Specifications
Minimum Swivel Radius
- (Fixed seat)
---
Wall to Inner Seat Back
2.95in
---
Seat Depth
12.59in
---
Minimum Folded Width to Footplate
15.15in
---
Minimum Open Width to Edge Footplate
25.59in
---
Armrest Width - External
21.65in
---
Armrest Width - Internal
18.30in
---
Seat Back Height
17.91in
---
Footplate to Seat Height
26.57 - 34.44in
---
Minimum Footplate Height
2.75in
---
Minimum Track Intrusion Into Staircase
4.52in
---
Maximum Weight Limit
300lbs
---
Speed
0.07m/sec
---
Staircase Angle
27 - 45°
---
---
---
Would you like to receive a free quote?
Fill out our contact form to request a free quote that is custom tailored to your needs and requirements.