Harmar SL300
Cleanest running drive available
The SL300 stair lift has an established reputation as one of the industry leaders for its innovative design, its solid performance, and also its reliability. The patented drive system is the primary element that makes the SL300 different from all others on the market.
Features:
The SL300 has no lubrication or grease, meaning it's cleaner for you, your family, and your pets.
Provides as many as 40 up and down cycles on batteries during power outages.
Most compact folded width due to its design. Helps stay out of sight and out of mind.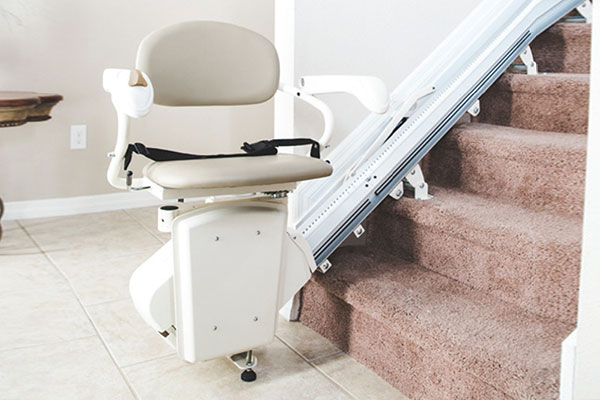 ---
SL300 Product Specifications
Weight Capacity
300 lbs
---
Track Length
15'6" - 36'
---
Seat Size
19"W x 16"D
---
Folded Width
11" from wall
13.6" with folding rail
---
ETL Certified
---
Safety Features
Seat belt
Overspeed brake
Audible alert system
Swivel seat with interlock
Footrest obstruction sensor
Incline Limits
32° - 45°
---
Speed
20 FPM
---
Footrest Size
12.6" x 14.8"
---
Drive
Patented nylon polymer
Helical worm gear
---
Warranty
2 year parts
5 year drive train
1 year battery
---
Options
Retractable seat belt
Automatic folding rail
Chassis obstruction sensor
Key lock
Extra rail
Manual lowering tool
---
---
Would you like to receive a free quote?
Fill out our contact form to request a free quote that is custom tailored to your needs and requirements.