Simplicity
A safe, practical and reliable solution for your straight staircase
The Simplicity is safe while being more cost effective. It's perfect if you have a straight set of stairs but do not require all of the powered options the 1000 range includes. *If you do require powered options, please check out the Simplicity Plus.
To provide you with the assurance of safety, we subject our stairlifts to the highest standard of quality and safety by having them all tested and approved by inspectors worldwide for safety.
The upholstery is flame retardant and wipe clean (available in sand color). The footplate and seat swivel are manually operated. The clip seat belt is standard and included. Can be delivered with a manual hinge or Slide Track if required. Our new products also come with a 2 year warranty on parts and a limited lifetime warranty on both the gearbox and the motor.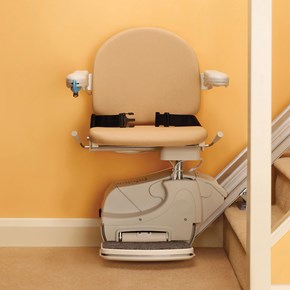 The Simplicity series track offers a charge function so it can be parked anywhere on the track when not in use. The batteries will charge in any position. It is also compatible with the slide track and manual hinge systems in case of a doorway close to the bottom of the stairs. All stairlifts have safety sensors on the power pack and footplate to stop the lift if it meets obstruction. Once stopped it can move in the opposite direction. We also supply each of our stairlifts with an easily accessible key switch. This allows it to be disabled to prevent unauthorized use.
---
Would you like to receive a free quote?
Fill out our contact form to request a free quote that is custom tailored to your needs and requirements.