1000 Outdoor
Stairlift for your straight stairs outside
The 1000 Outdoor Stairlift is designed to overcome problems external stairs can cause, and comes fully waterproofed.
It is also supplied with upholstery that is UV protected, so regardless of weather it is always protected and ready for use.
Like all of our stairlifts, the outdoor models have a key switch to prevent unauthorized use. To provide you with the assurance of safety, we subject our stairlifts to the highest standard of quality and safety by having them all tested and approved by inspectors worldwide for safety.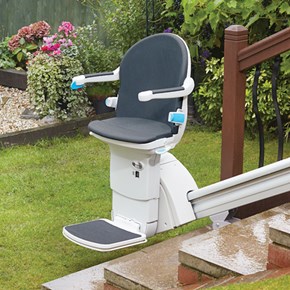 The 1000 Outdoor's seat is built to suit individual needs. It comes with an optional powered footplate and swivel. Our stairlifts also have safety sensors to prevent collision with any obstructions. If it detects an obstruction, it can be moved in the opposite direction. They also include an accessible key switch that allows you to disable the lift, preventing unauthorized use.
---
Would you like to receive a free quote?
Fill out our contact form to request a free quote that is custom tailored to your needs and requirements.